The flower-faced potoo, Gryseonycta rostriflora, is a diurnal potoo from the tropical grasslands of South America. It the oddest bird found on the South American grasslands.
The interior of its beak is colored and patterned like the petals of a flower, so that when it has its mouth open it looks exactly like an open b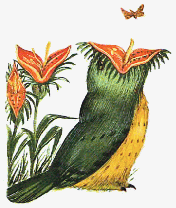 loom. This elaborate mimicry is designed to deceive insects and provides the potoo with a meal by merely opening its mouth. Because tropical grassland flowers appear only when there is adequate moisture, the potoo migrates seasonally with the rains.
Community content is available under
CC-BY-SA
unless otherwise noted.