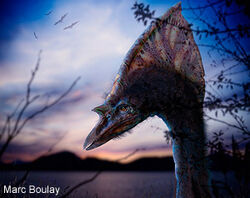 Systematic: Aves (Bird), Anseriformes, Anatidae (ducks group, geese, swans)
Etymology: Of "Giraffe", giraffe, and "ornis" the bird. The species is dedicated to Dr. Gert van Dijk
Cousin of the XXI century: The white-fronted goose (Anser albifrons).
Height: 5 meters for females and 6 meters for males.
Distribution: Giraffornis vandijki live the great plains and savannas EurAfrican.
Morphology: This unique giant bird is a quadruped: its wings have turned into walking legs, very long and thin. The neck, very developed, ends with a rather flat head. The male sports a crest on the head and neck.
Ethology: Like its cousin of the 21st century, the white-fronted goose, Giraffornis vandijki is exclusively herbivorous. It even spends most of its time grazing, the crop acting as a paunch to ferment food. These unusual birds have retained the acute and short cry from their current cousins: their morning laughter defining nesting areas are, in the wet season, particularly impressive.
Reproduction: Monogamous couples stay together for several years. Eggs (5-6 year) are laid in simple holes dug in the ground. The male effectively protects the nest while the female incubates.