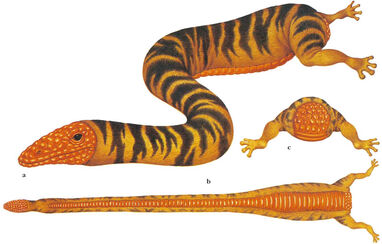 The
wyrm
(
Vermisaurus perdebracchius
) is an armless, tailless,
snakelike
coelurosaur from
Dougal Dixon
's
The New Dinosaurs: An Alternative Evolution
. It lives in African deserts and desert scrubs.
Like the sandle, the wyrm is a streamlined animal adapted to a burrowing existence. It has also evolved from the lightly built coelurosaurs of the Cretaceous period. Its streamlining takes the form of a great elongation of the body and neck and the total loss of the forelimbs. Its head is trowel-shaped and used to force a path through the sand. There it moves by undulations of the long body and by thrusting with a swimming motion of the broad hind feet. The back of the wyrm is covered with fine hair-like feathers. The rest of its body is armored by a network of scales. The head is a scaly shield. A row of heavy transverse scales runs the full length of its underside protecting its belly from the constant abrasion of sand and stones as it winds its way along. A heavy shield of scales covers the rump, to protect it from members of its own species that may pursue it down the tunnels of its prey.
There are many species of wyrm, not all of which have continued to be burrowers. Many live in the burrows of other animals, such as the small desert placental mammals. Many others have spread into different habitats and different zoogeographical realms around the world. The long sinuous form that first evolved as a burrowing mechanism has applications in other ways of life. There are swimming wyrms in various parts of the globe and a whole range of tree-living wyrms, especially in the Indomalayan ecozone (namely the treewyrm). The wyrms of the deserts of both northern sub-Saharan Africa and the Sahara, where they first evolved, are still burrowing animals, and hunt small placental mammals and reptiles usually at dusk and at dawn. Like the sandle they obtain all their moisture from the flesh of their prey, who in turn obtain all theirs from the scrubby desert plants and seeds that they eat. They make very efficient use of their water despite the fact that they have only one kidney, the other having been lost as the narrow shape evolved.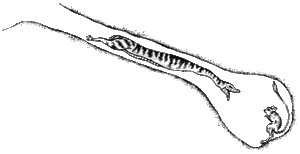 Community content is available under
CC-BY-SA
unless otherwise noted.